Left-over yogurt muffins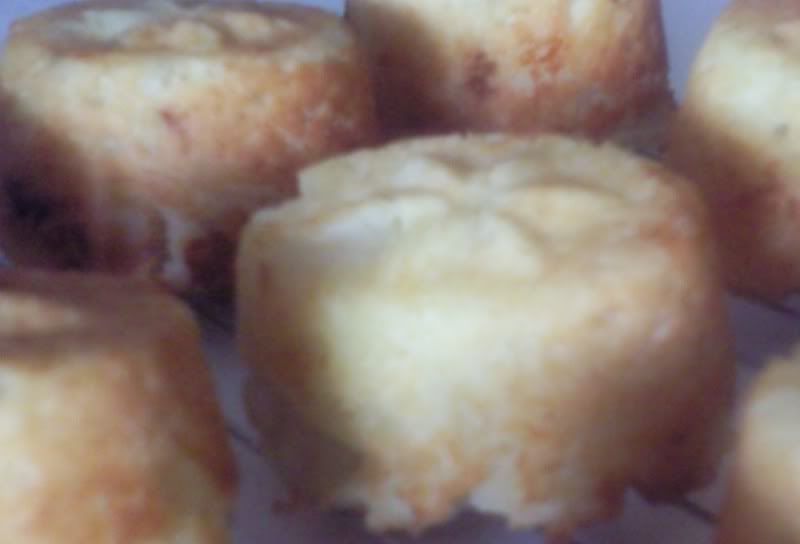 For when you've got a thing of yogurt that's about to turn bad and you don't want to eat a bunch of yogurt straight. Adjust amounts to suit how much yogurt you have left over, and how many muffins you want to get out the whole venture. I totally didn't measure anything when I made these, so sorry about the vague instructions.
Ingredients:
* approx 1-2 cups of yogurt (natural/greek yogurt for savoury muffins, vanilla yogurt for sweet muffins, fancypants flavoured yogurt if you want to experiment)
* approx 1-2 cups self raising flour
* 1 cup plain flour
* a teaspoon (and a half) of baking soda/powder
* 1/2 cup butter or oil
* 1 egg
* 1/2 cup of sugar (or whatever)
* whatever else stuff you want in there for ~flavour~
Do this stuff:
* mix flours, baking powder, and sugar in a bowl. Make sure the baking powder is well mixed in, cuz it totally sucks when you get a pocket of baking soda in a mouthful of muffin. You won't get another chance to mix the dry ingredients through the mixture, so do it now.
* melt the butter if you're using butter. If you're putting chopped up fruit in your muffins, mix the fruit into the butter or oil.
* make a well in the centre, and crack the egg into it. Add the yogurt and mix the egg and yogurt together without mixing the flour mixture into it.
* add the butter/oil fruit goop to the yogurt egg goop part in the bowl and mix a bit. Then get the flour mixture into the whole mixing process. Be super careful not to overmix the batter. It should only just come together. Mixing the batter too much will mean you get little rocks instead of muffins because they won't rise at all in the oven.
* If your batter is superdry and isn't mixing very well, maybe melt some more butter into it, or some extra yogurt, or add some water. This is why not measuring your experiments is a bit sucky. But the yogurt should make it pretty lumpy and gooey, so it won't be supersmooth runny batter.
* grease a muffin tray with butter (or use patty pan cases). Fill the muffin bits level with the top. They *should* rise a bit in the oven, so don't overfill the trays unless you want big muffins.
* cook in the top of a medium to cool oven until they're delicious. If they're browning too fast, put them down the bottom of the oven.
* let them cool a little in the tray before trying to get them out.
* celebrate!
Some pretty darn delicious combinations:
Banana and maple:
Basic recipe as above, but add one or two mushed up bananas, some cinnamon, some allspice (more cinnamon than allspice, unless you like allspice more than cinnamon), and a sploosh of maple syrup.
Pear and blue cheese:
Basic recipe as above, but add small chunks of pear and blue cheese. If you preheat the oven while you're making the muffin mixture, try putting the blue cheese on top of the oven to melt a bit before cutting it up. I reckon this'd be pretty rad with some rosemary too.
Apple and berry:
Basic recipe as above, but add small chunks of apple and a handful of berries, and some cinnamon. Alternatively, use a berry flavoured yogurt. Super delicious ommigosh.
Labels: leftovers, pantry food, rum and raisin muffins, yogurt